The specs of my computers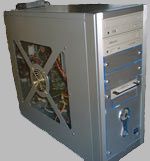 SLAVE (Test web server/ICS/Media/Download/Fileserver)
This is a picture of the internals of this computer. When you point to the various parts, it will tell you about them. Clicking on them will take you to a relevent webpage.
Other parts of computer:
Monitor:
22" Hitachi LCD-TV & Viewsonic vp171s
Keyboard:
Cordless USB radio keyboard/mouse from Arianet
Mouse:
Arianet wireless rechargable optical
Intended Changes:
Extra HDD for file serving
---
Main PC (DAVE_WEBWIZARD2)
Yes, i have bought another shuttle. This one is based on the i865 for Pentium 4 at 800fsb.
CPU:
2.8c (800fsb) Pentium 4, running at 3.0Ghz (215 fsb, 1.65v)
Memory:
1024MB DDR (running at 192Mhz, cas 2.5)
Graphics card:
ATI radeon 9800 pro
Monitor:
Hitiachi CML174SXB and Viewsonic 171s
Motherboard:
Shuttle SFF SB61G2
OnBoard:
Network,5.1 digital sound, Basic video, Usb2, firewire, sata
Sound:
Audigy 2 ZS
Hard drive:
120GB Hitachi/IBM 8MB
CD-rom:
Pioneer 4x DVD+-r
Power supply:
Specially designed 200W
Cooling:
Specially designed heatpipe with sunon 80mm fan
Input:
Logitech MX700 mouse, Internet navigator keyboard
Other hardware:
Usb2.0 Card reader/floppy in 3.5" slot, Iriver ihp120 20GB HDD based mp3 player, 2MP 3x optical zoom Fuji Digital camera, Compaq Aero 2100 Palmsize
Printer/scanner:
Samsung ML-1510 laser, Canoscan FB630U, Scanmagic 600cp
Intended changes:
None besides a brand new system next year
---
LIBRETTO (very portable laptop)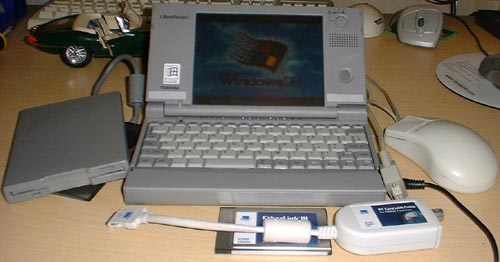 This is my 'Notebook' computer - the difference being that it is only the size of a video cassete. It is a Toshiba Libretto 50CT, running windows 98. It is mainly my portable word proccessor, but it can run games - I have Red alert and Quake I on it. The sound is 16 bit stereo, and it can just about play mp3s as long as nothing else is running. The main downside is battery life - i am lucky to get more than an hour or 2 out of it - but this is to be expected in one so small and old. You can buy better batteries for it now, which I am looking into. See
this
site for more information about librettos
I expect a few people are interested in getting one. Well, they are no longer in production and scale right from 66 to 266MHz. I suggest looking for the newer 100 and 110cts as they have at least 166MHz and many other features. I paid £250 for mine at a shop in Cambridge. I suggest trying ebay and other auction sites.
CPU:
Mobile Pentium 75
Memory:
32MB edo (upgradeable to 64mb)
PCMCIA cards:
3Com 10Mbit network, floppy drive
Hard drive:
2.1GB
Ports
Serial, parallel + VGA with port replicator, type II PCMCIA, 15V DC, Infrared